9th December to 22nd December ~ Physical & Audio ~ Link to Goodreads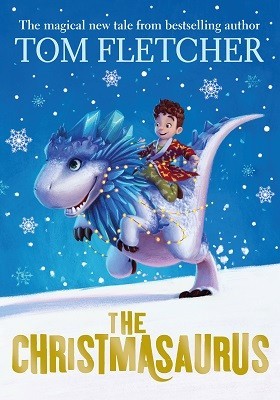 Synopsis:
The Christmasaurus is a story about a boy named William Trundle, and a dinosaur, the Christmasaurus. It's about how they meet one Christmas Eve and have a magical adventure. It's about friendship and families, sleigh bells and Santa, singing elves and flying reindeer, music and magic. It's about discovering your heart's true desire, and learning that the impossible might just be possible.
Review:
I was a little unsure about reviewing this one in January but I didn't want to wait a year to get my thoughts down.
I brought this book for my sister who is 8 as a Christmas present and I thought before I wrapped it I would read it. I read it so that I could leave little notes in it for her letting her know which bits I liked etc and so when she gets round to reading it she'll find little paper notes in there from me.
I absolutely adored this book and I would recommend for all kids and most adults! Super easy to read with amazing illustrations, witty humor – it was the full package for me. Also, I am usually a big old Grinch but it managed to melt even my frosty little heart and get me feeling festive!
The story follows William a little boy whose dad is obsessed with Christmas and all he (William) wants this year is a real dinosaur and it just so happens that the elves at the North Pole have found one!
One of the things I loved most about this book was that I think it was well researched. William is disabled and wheelchair bound and the book did a brilliant job of putting this across. It would explain how William got around certain every day tasks (such as getting in and out of bed) but it blended so seamlessly into the book. I really appreciate this kind of representation where it is able to highlight without making it the complete focus of the scene/entire book. It makes it seem more realistic to me when it is written without fuss because people who have to do this have to do it every day without fuss. I believe the author spent a great deal of time with a charity called Whizz-Kidz in order to make sure he knew what he was writing about.
I read part of this as audio and I must say I really can't decide which format I liked better! With the physical copy you get the beautiful illustrations and the enlarged text to emphasise certain parts making the reading experience really fun. On the other hand I felt the audio book narrator was brilliantly cast and he sounded just how I think he should and at times it felt a little like a good dramatisation.
Overall: Brilliant read which will be fun not alone for children but the parents who read to them. I'd recommend picking this one up next December no matter what age you are! Heck, if you're wanting a bit of Christmas cheer this dreary January why not pick it up sooner 🙂
Have you read the Christmasaurus?
What Christmassy reads would you recommend for next year?
Follow me on Instagram @KirstyandtheCatRead and Twitter @KandtheCatRead