2nd January to 15th January ~ Audiobook ~ Book 2 ~ Link to Goodreads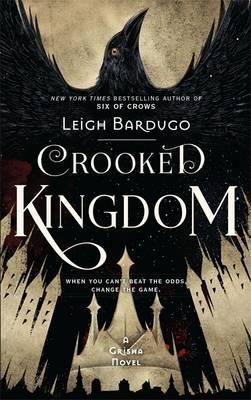 *** This review won't contain spoilers for this book but might contain spoilers for the first book (Six of Crows). You can find my review for Six of Crows here ***
Synopsis:
Kaz Brekker and his crew have just pulled off the most daring heist imaginable.
But instead of divvying up a fat reward, they're fighting for their lives. Double-crossed and badly weakened, they're low on resources, allies and hope. While a war rages on the city's streets, the team's fragile loyalties are stretched to breaking point.  Kaz and his crew will have to make sure they're on the winning side… no matter what the cost.
Review:
I have so many thoughts about this book I really did enjoy it but something just fell a little flat compared to Six of Crows. I have a feeling this is because Six of Crows was new, exciting and it felt unique and so the second book isn't going to be as impactful.
The best part of the book for me was getting the back stories for the group. I think it added another layer of depth to all the characters and made them seem a little more human and a little less like fictional characters. I especially loved Wylan's backstory and the things that happen to him throughout the book, I've had a soft spot for Wylan since the end of book one and I have shipped him and Jesper from the beginning of book one!
The characters really are what make this series for me, when the plot was getting a little daft or when the pacing wasn't up as much as I thought it could be the characters were the glue keeping it together and pulling me along with them. I have mentioned I have a soft spot for Wylan but I have to say Inej is probably my favourite out of the group. Her poise and class and empathy as well as her kick ass abilities just blow me away!
The pacing was consistent I found it wasn't as fast as the first book but at the same time it was never dull and didn't feel like it lulled. I found myself wanting to listen at every spare moment so that's always a good sign! On that note I'd also like to say the narration of the audio book was great each character seems to have their own narrator so it's easy to distinguish between them all.
If I had one complaint it would be that it was perhaps a smidge too long towards the end as more drama was being brought into play I found myself rolling my eyes a little. I know it's not meant to be easy but it also doesn't warrant that much going wrong just to add tension.
Overall: I think overall the series was great and this book concluded things really well however I think the characters will be what sticks with me a lot more than the plot and the storyline.
Representation:
This book is full of diverse characters of different backgrounds. POC, Disabilities & LGBTQ+ are featured in this book as I am none of the above I cannot say whether representation is accurate however I do feel like it was written in well. It didn't seem to be the main focus of anyone just a part of them worked in seemlessly and that's the kind of representation I like to see. I don't like it when people's skin colour or abilities or sexual orientation are used just as a plot point or for dramatic affect I find that quite offensive but it wasn't done like this in the duology. *1
Follow me on Instagram @KirstyandtheCatRead and Twitter @KandtheCatRead