2nd Feb to 9th Feb ~ Physical Copy ~ Link to Goodreads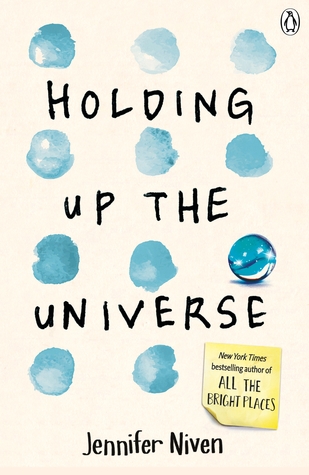 Synopsis:
From the author of the New York Times bestseller All the Bright Places comes a heart-wrenching story about what it means to see someone – and love someone – for who they truly are.
Everyone thinks they know Libby Strout, the girl once dubbed 'America's Fattest Teen'. But no one's taken the time to look past her weight to get to see who she really is. Since her mum's death, she's been picking up the pieces in the privacy of her home, dealing with her heartbroken father and her own grief. Now, Libby's ready: for high school, for new friends, for love, and for EVERY POSSIBILITY LIFE HAS TO OFFER. I know the part I want to play here at MVB High. I want to be the girl who can do anything.
Everyone thinks they know Jack Masselin too. Yes, he's got swagger, but he's also mastered the art of fitting in. What no one knows is that Jack has a secret: he can't recognize faces. Even his own brothers are strangers to him. He's the guy who can re-engineer and rebuild anything, but he can't understand what's going on with the inner workings of his own brain. So he tells himself to play it cool: Be charming. Be hilarious. Don't get too close to anyone.
Until he meets Libby. When the two get tangled up in a cruel high school game which lands them in group counseling, Libby and Jack are both angry, and then surprised. Because the more time they spend together, the less alone they feel. Because sometimes when you meet someone, it changes the world – theirs and yours
Review:
I think as a whole I was quite let down by this book and it was really just a forgettable reading experience. That being said there were some really great points to it.
For me I feel like this was pretty much a carbon copy of Eleanor and Park by Rainbow Rowell with few minor changes. The male character, Jack, in this book is almost identical in temperament to Park. He seems overly concerned with what people will think of him and not so much about what he thinks about himself. I also found him to be negative especially when he's talking about other people. He acts like no-one would understand but he's not given anyone a chance to understand. He's also part of the whole "My friends are idiots I don't know why I like them." Trope which I hate!
It was so hard for me to believe that absolutely no-one knew about his condition. He had this condition at least from the age of 6. At 6 years old that would have been incredibly scary so it's too hard for me to believe no-one knew or no-one noticed something was wrong. I think at don't think many 6 years old really have the capacity or the fore-thought to keep this kind of experience from the people around them and my mind couldn't get past this. Overall I found him to be the cliché mopey woe is me kind.
I actually really liked Libby. I think her positivity wasn't over exaggerated she seemed to be the only character in the book who was actually well fleshed out and felt very human too me. I think that had we cut out Jack's chapters leaving only Libby's I would have enjoyed this a little more. I feel like Libby's history and how far she'd come was handled really well and it didn't just make out that every thing was fixed because she'd taken the initial few steps, it seemed to really highlight it was going to be a long process.
Plot wise not a lot was really going on. This was pretty much a character driven book and since I didn't really get on with one half of the POV's it's probably not surprising I was disappointed. I did find it interesting learning a little about Prosopagnosia as this is something I never even knew existed before this. I think it will make people want to learn a little more about it outside of the reading experience so that's always a positive.
Overall: For me Jack's chapters were almost completely pointless and it should've just been Libby's point of view. The author seemed to spend all her time fleshing out Libby that Jack felt like a lazy after thought. The general feel and message of the book was far too similar to Eleanor and Park for me so it was a forgettable carbon copy of something I love.
Representation:
I adored that we had a larger protagonist. As a larger lady myself I thought it was really refreshing to have this represented in a way that doesn't make us out to be the sidekicks or a "fat best friend" for a skinnier, prettier more popular girl. I also found Libby's attitude to others and her journey to be very realistic, she isn't always happy and cheery but she'd also not constantly dwelling on how far she has left to go.
We also have a protagonist with prosopagnosia. As I do not have this I can't comment on how accurately it was written however in my opinion I think it was used as more of a plot device than it should've been. The was very little in regards to educating us as to what it is and how he could cope better with this. In fact there is just one scene where he is diagnosed that talks about it in depth and in that scene he's basically told in a round about way to deal with it on his own. I think I'd have liked a bit more information to help me understand it more and I think this would have helped me connect with him a little more.
Have you read Holding Up the Universe?
What were your thoughts on the characters?
Do you think it was reminiscent of Eleanor & Park?
Follow me on Twitter and Instagram for my reading and writing updates!